This article covers technical SEO metrics to check before making a decision to purchase an expired domain with traffic and revenue. They are based on our own research and experience in doing 12 years of successful SEO and web development.
Disclaimer: Use this as a guide for inspiration. What has worked for us, may not work for you. Always do your own testing and measuring!
1. Ahrefs Domain Rating
A quick bird's eye view of domain authority.

The ahrefs Domain Rating is a logarithmic metric of the website's total backlink profile measured from 0 to 100. Basically, the higher this number, the stronger the link profile and authority the website has. However, beware that this metric can be easily manipulated and should not be used alone to make a buying decision. Below are more metrics to check against to determine if the Domain Rating really holds up to its given value.
2. Organic Traffic Performance
If the domain or website in question has a high Domain Rating of say 54, logic says that the domain should be ranking very well in Google and receiving lots of traffic right? WRONG. Since the DR can be easily manipulated, we check it against the ahrefs Organic Traffic metric.
There is no set formula or standard for determining how much organic traffic a website should have based on domain rating. However, we like to see organic traffic of at least 500 or more. But this number varies on the type of website and the niche.
How ahrefs Organic Traffic is Calculated

The Organic Traffic number is an estimate of how much organic search traffic the website or domain gets each month. It is calculated based on keywords that the website ranks for and their respective estimated search volumes. You can read more about how they calculate this metric here.
Check For Fluctuations and Declining Traffic
Be wary of websites that are showing a decline in traffic or showing major fluctuations. Websites often get hit with Google algo updates and then look to sell the site.
If you don't have access to Google Analytics, you can use the ahrefs Organic Search metrics to see if it has been negatively affected by an algorithm update. Though, there could be many reasons for traffic fluctuations, such as changes in content structure, migrating platforms (moving a website from Ghost CMS to WordPress), changing WordPress themes, etc. Always ask the seller questions about what happened to gain a deeper insight.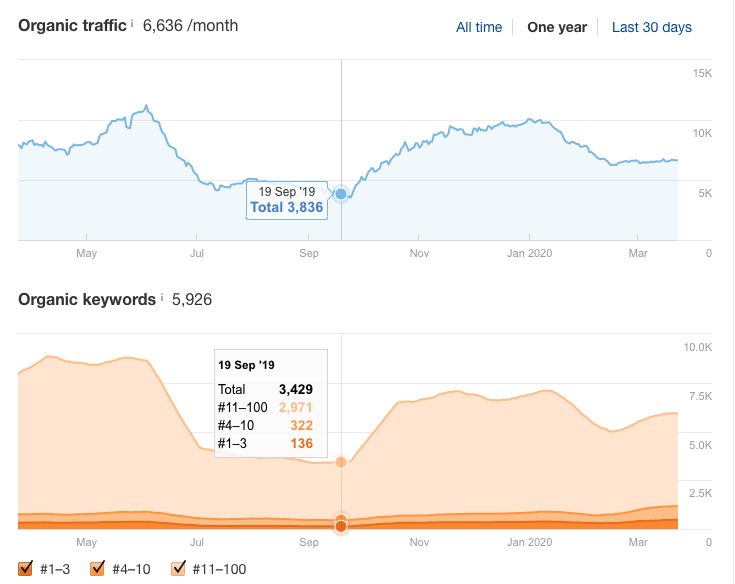 Check for Even Distribution of Traffic Among Pages
Richard Patey suggests that a website should not be getting more than 20-30% of its traffic from a single page. His logic is clear and simple. If that page falls off page 1, then your revenue is likely to decline with it. His latest episode on Niche Pursuits is full of golden nuggets and goes into more detail about how he analyzes websites for sale.
We can check this using ahrefs Top Pages. See the example below: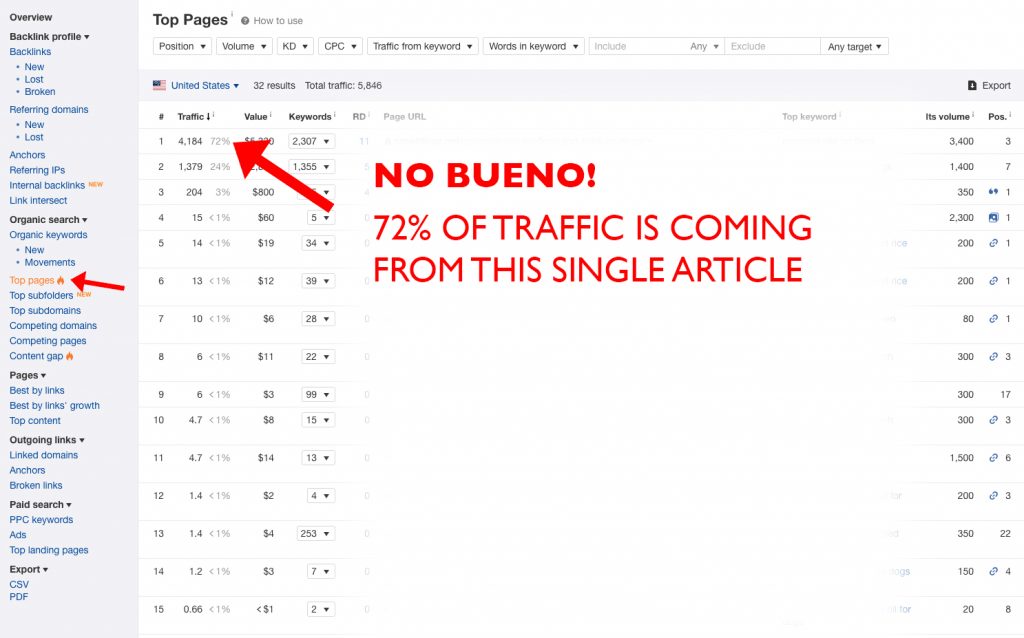 Google Analytics give us more accurate details of the top pages: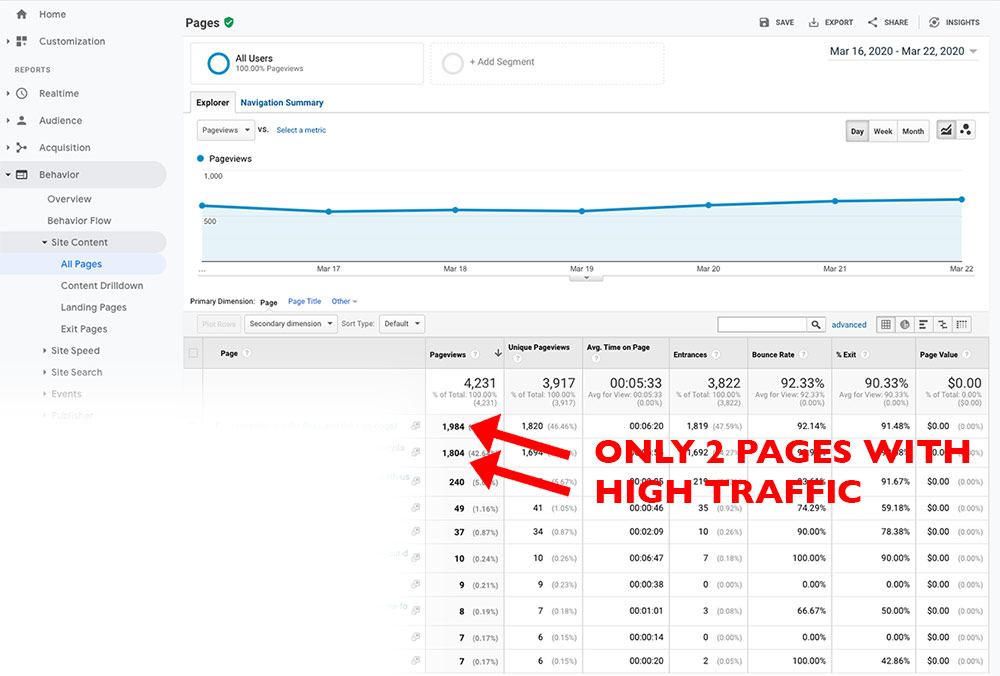 Traffic Value
Traffic Value can help you determine the monthly cost of traffic from ranking keywords if using Pay Per Click ads instead of organic rankings. This does not equal the website's value. A simple way of looking at it is how much money the website is saving every month with organic traffic vs paying for traffic with Google Ads.
3. Check The Backlink Profile
You'll want to look for backlink profiles that contain high quality links from other authority sites. These links are harder and harder to get and are usually worth hundreds of dollars alone in SEO and guest posting.
Notice any spammy or low quality links? Do the backlinks look natural or are they coming from random irrelevant websites? The Anchor text profile is also key. Is the anchor text over optimized or does it look natural?
I personally don't buy websites with backlinks that contain:
Adult or Porn links
Software Generated links
Blatant / Low Quality Private Blog Networks
Pharmaceutical, Cialis, Viagra or "Big Dick" links lol
Illegal Drugs – cannabis or mind-expanding substances are an exception 😉
Referring Domains
A website may have 5000 backlinks, but how many different domains are they coming from? 5k links coming from only 5 referring domains is an indication of a spammy link profile. You'll want to make sure that the backlink to referring domain ratio is even, natural and realistic.
Your Turn!
The best way to learn how to spot healthy link profiles is by researching other High Authority websites' metrics.
Questions about our process? Post a comment below or shoot us an email, we're here to help!