Buy Expired Domains with Traffic and Aged Authority Domains
Domain Explorer is a free database to search and buy expired domains with traffic and valuable backlinks.
Search Millions of Expired Domains with Traffic
Domain Explorer is a web-based domain research tool that gathers all the information you need to find and purchase valuable domains for SEO purposes.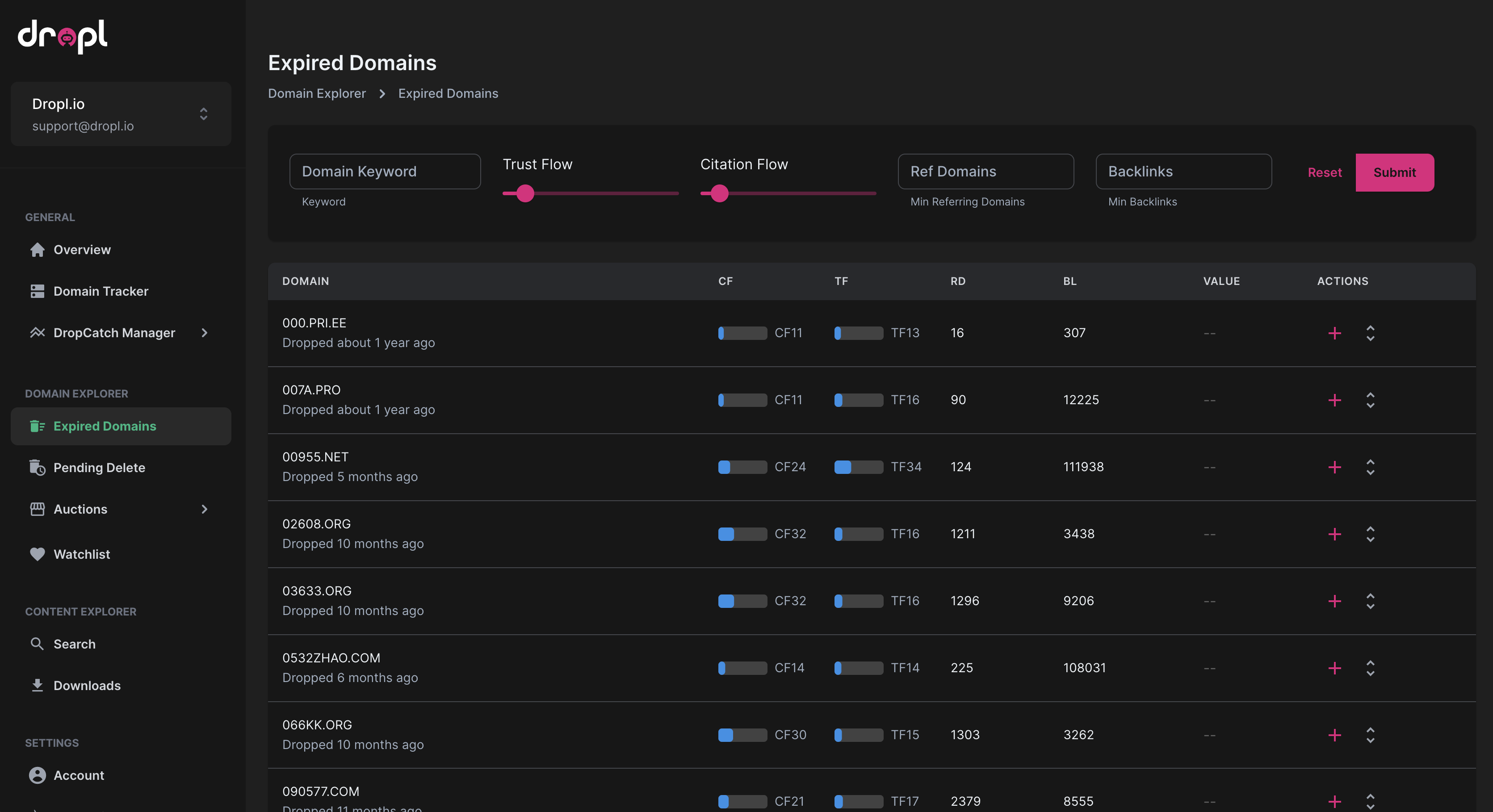 DropCatch API Integration
Create backorders on expiring domains with your DropCatch.com account.
Connect your Ahrefs account to pull in more data including:
Filter domains on Majestic SEO metrics, no integration necessary.
What is an expired Domain?
You don't have the right to own domains forever. They are just leased for a specific duration of time.
Domains can be described as "internet properties" that are leased annually. A domain's "owner" is required to pay the registrars an "yearly cost" to maintain the domain's control. The duration of this fee can vary from a few months to several decades.
An expired domain is one for which the "rent" AKA "yearly renewal fee" was not paid, therefore the registrar took over the domain's control from its previous owner once the agreement was over. Domains that are expired are auctioned off or allowed to expire.
A valid expired domain is one that was a legitimate site in the past and had authoritative links pointed to it. Google is a trusted source.
From a healthy old age to the high-quality backlinks have been accumulated over the course time they've existed, a well expired domain can help you save several months or even years of SEO efforts.
This is what no one will tell you.
It's EASY to locate expired domains. The problem is in the details; the source of the pain is:
Many domains are canceled each day, however in my observation, less than 0.1 percent of these will have any hyperlinks that have anything " SEO Value."
You've probably seen sellers selling expired domains for as little as $30 and $50. Heck, $100. They're mostly not worth the money..
For instance:
A great expired domain contains hyperlinks from a variety of authoritative websites.
Note This is the Historical view since the majority of the links are in operation. But, because the domain does not have the pages that are live and the links aren't showing on Site Explorer.
Do expired domains still work in 2022?
If you're looking for old-fashioned tricks that aren't as effective the answer is NO. If you're talking about innovative and sustainable ways to use expired domains, I'll happily tell you yes.
There are some terms that we need to know prior to starting:
Referring Domains (RD): Number of websites that are unique to a specific domain. 

It is more beneficial to have 100 links from 100 websites rather than 100 links coming from just one.

Domain Authority (DA) Moz's measurement of how strong a site's link profile.
Domain Rating (DR): A measure from Ahrefs to measure how strong the backlink profile of a website is.
Trust Flow (TF): A Majestic measure of how reliable the backlink profile of a website is.
7 Reasons To Find & Buy Expired Domains
Expired domains drastically reduce costs per click. What price would you pay for high quality hyperlinks? With over 6k links on unique websites, this domain is gold in the making.
You can retrieve the old site's content by using the WayBack Machine to save on costs for content. I would not recommend this if you plan to use the domain for a money site. Be sure to verify that the content isn't duplicated by another person before.
My experience is that content is indexed faster when building a site using an expired domain.
If the domain you're purchasing received traffic before its expiration, it is possible to regain the traffic you received by restoring the content and making it better. This can immediately increase the amount of traffic.
Google offers this "sandbox" time frame during which new sites do not get ranked for the keywords they are targeting for some time. If you're using a domain expiring, the sandbox period isn't there or decreases significantly.
Our experience is that it takes between 3 and 8 months for a domain that has expired to reach its full potential. Therefore, you can notice results faster; at times, it happens instantly.
Virtually eliminate the need for Link Building
Many individuals and I have ranked websites with ZERO link building while building sites on expired domains. A good content writer alone is enough to do the job.
For example, we've constructed just five links in two years for a website, and it's been earning $1000 per month consistently.
Brand Searches for Existing Brands
My experience is that existing brand searches appear to boost rankings more quickly than websites that don't have brand-related search results.
One of the websites we manage is home to ~9.2k search results for it's brand name.