You must struggling in your startup when you buy your first ever domain name and know about google search engine rankings and Domain authority and so on.
Because new Domain is like a new business opened and Buying expired domains with traffic always have a good Domain Metrics and authority and Backlinks.
Your answer might be yes!
As You seen in Famous Facebook Groups people are selling or asking for Domains very high amount why? Because Domain flipping is a business where selling good authority Domain names sells at higher prices.
Domain flipping business is so easy as quick. you need to buying an expired domain name with good authority and sell it for profit and make hundreds of dollars.
Buying or making new back-links on a new domain is not easier now a days. google algorithms working flow are now more smarter than us.
Buying an expired domain names with traffic is easy to do business, You can start your blog with expired authority domain and start your blog with already loyal readers.
Notable, its a good business to do now a days to buy for small amount a good domain name and sell it after months for making good profits in your pocket.
You can look on Facebook group people always looking for domains for their business, you can join those groups and sell their with good lucrative offers.
If you sell Massive authority DA/PA domains on per week basis, you can earn about little to little $100+ per domain selling.
So you can easily run Domain flipping Business online. you need little handwork but you have to do more smart work.
Picking right old Domains finding process is not easy as it looks.
If you are looking to earn online money from selling expire domains and want to learn Domains flipping Business, I will share with you some best buying and selling Techniques to follow.
You can choose first good niches and spying on some domains and check them through whois lookup and lookout for domains with backlinks, seo metrics and wait for expiring domains and wait for came to sell at expired domain auctions.
First of all, let's Know about the expired domains.
An expired Domains are those Domains where owners forgot to renew the domain, closed the Business or they don't have sufficient money with him to renew it again.
So Domain registrars offer 30 days extension offer to renew domain in this period. After 30 Domain will be treated as expired or dropped domains.
Their are lot of expired Domain names came to sell every day in domain auctions. sometime people use for one year and never renew them. they buy domains for gaining knowledge about website.
Bidding period will last for 7 days and after that domain will be higher bidder who quoted higher amount offer for domains and he can buy domain easily.
But an expired Domains have a history too, so it means they also have some good score and back links. if you work on that site for some months it will gain good authority score and you can sell it good making profits.
Table of Contents
What Can I Do With A Domain Names?
1.Private Blog Network (PBN)
2. Redirect the Site
3.Build an Authority Site
4. Sell For Profit
Here's How You Evaluate How to find Expired Domains For SEO
How professional find to grab expired domains
TLD – The Domain Should Be A .Com Or Target Country
Domain Age
Moz Metrics
Google AdSense checker
Check Archive Of The Website
Check Chinese Backlinks Or Spam Score
4+Best Places For Buy Expired Domains
Wrapping Up
What Can I Do With A Domain Names?
An expired Domain have some authority compared to buy new and work on it. you can secure your brand, when you need to go online your business, you will be ready all the time.
Now, we will learn some quick reasons to Buy an expired Domain name.
1.Private Blog Network (PBN)
If you have bought amazing high authority value domain at beatable price, now you have options to lot of do with it.
If site is already a generic blog/website in past. you can create it very well again and post some good content and link back to your blog with anchors.
You have full control over the Private blog network but there is cons, you need to spend money on hosting as well as publishing good content on it. It will consume your time and money.
2. Redirect the Site
Redirection is an easy process if you want to pass link Juice to your main blog/ website without setting up a new website and spending money on new hosting for domain, this can be done via a 301 redirect.
if the expired Domain with have high SEO value and backlinks which he created over the years, all ranking will be transferred to your website via redirect.
3.Build an Authority Site
If you Are thinking still about building a website or blog, consider to search and buying expired domains rather than a new one.
On a new Domain you have to do lot of hard work like starter. you have to write new articles, backlinks and so on. domain age authority will comes with a time.
4. Sell For Profit
Another reason of Buying expired Domain is to sell them for making a good money. make a domain lists of expiring domain names and spy on them and grab them before anyone take away before you.
you can Continue build more backlinks to it. it will help domain to increase its value over the time.
Later you can sell it for more higher price you looking for.
Here's How You Evaluate How to find Expired Domains For SEO
Never Buy a Domain that is short and available low price for any reasons, we Don't know there metrics.
Some Domains have poor backlinks history or blacklisted.
How professional find to grab expired domains
Brand – The domain should be short and be brandable
Domain name says you are forward-looking
Improved Search Engine Rankings
Interact with a niche market
TLD – The Domain Should Be A .Com Or Target Country
If you Looking for a Domain for a longer i would recommend you Pick . com extension. Its top benefit is you can target any country.
If you target only country you can pickup Domain extension Country specific. it will you ranking faster on google.
Domain Age
Search engines Mostly prefers older domains since older domains are more trustworthy and age comes with time. You can check domain age from the Who Is details for that particular domain.
Moz Metrics
Moz is a Seattle based SEO Software Company that provides metrics similar to other metrics offered by other SEO popular companies. Moz Domain Authority (DA) Provides metric Details between 0 and 100 that predicts how well a website will perform in Search engine ranking.
You can use Domain metrics authority and page authority to check or compare with the competitors metrics.
Google AdSense checker
If you are building a website, you always looking to run ads on a good traffic website and earn a good revenue from it. why not everyone think about it.
Pin
Adsense Sandbox checker Is Just a tool where you can check and help to find you adsense ban.
Simply enter the Url And click on Preview Ads button.
Check Archive Of The Website
Here You can checkout Domain work history. How it performing from starting and year on year basis.
Pin
You can simply visit to archive Wayback machine and enter Domain Url and it will take you Way back and checkout some timeline Graph and past screenshot by clicking On various dates as a calendar available to you.
Check Chinese Backlinks Or Spam Score
You can Checkout backlinks from various seo experts software Like Semrush, Ahrefs, Moz. They provided you domains with great Backlinks List where domain getting referring links. seo tools really help to figure out good domains
If there is very bad score of bad links metrics and have most Chinese back links to Domain, avoid that domain to buy. keep safe your money from investment.
4+ Best Places For Buy Expired Domains
1. Dropl.io – Domain Explorer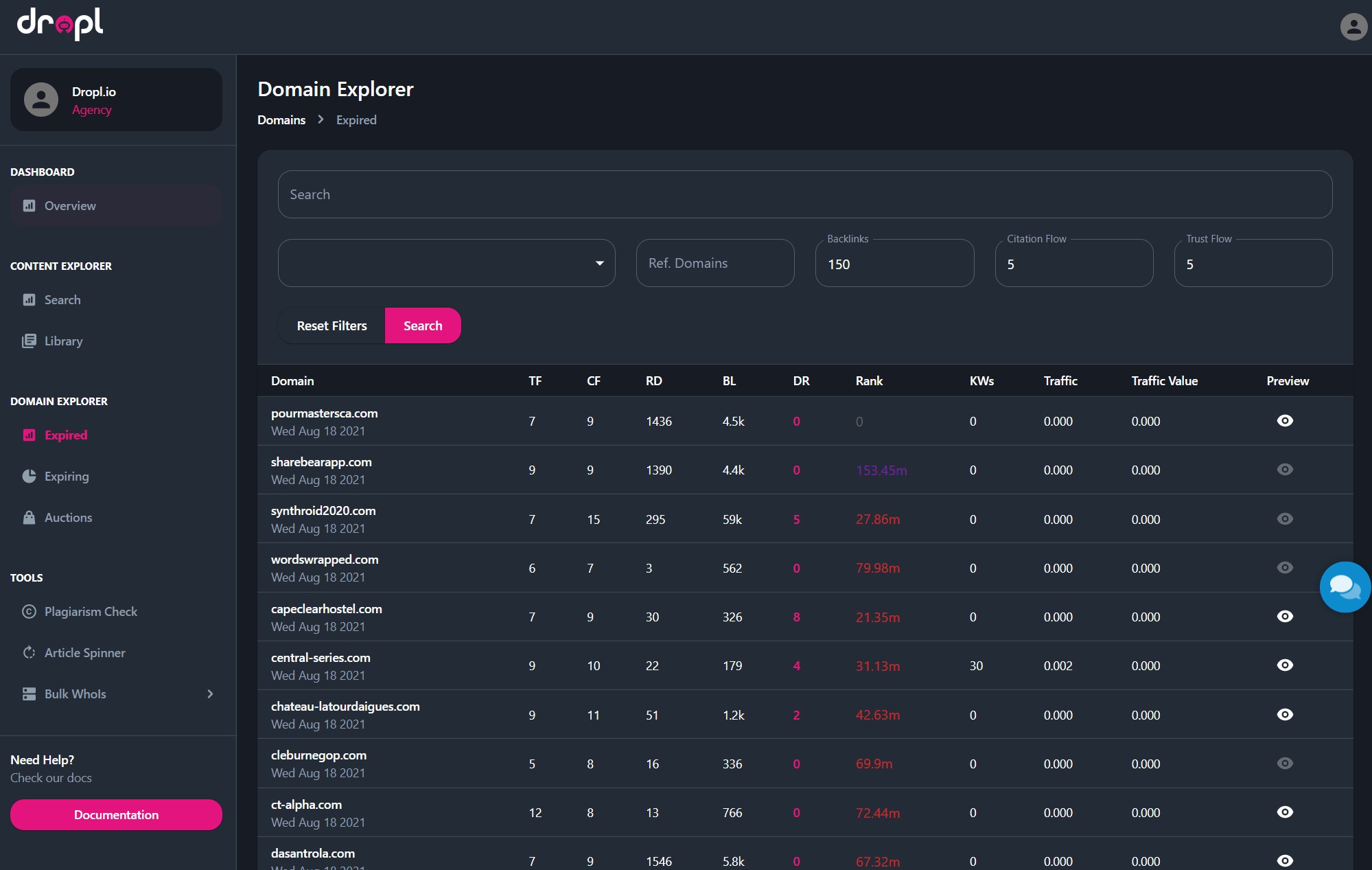 We have over 30 million expired domains in our index, as well as add over 100,000 domains daily from Godaddy auctions and domains pending deletion (for backordering).
2. ExpiredDomains.net
If you are looking out information for expired domains list this website bring more data for you and you don't have to pay even a single Penny to them.
You don't have need to sign up to check the expired domains. Simply Search the details grab one you want to look.
3. NameCheap Domains
Namecheap is one of the best Reputable Brand where to buy new Domains and their services and support is very good. Just checkout Namecheap Auction marketplace for expired domains list.
4. Name.com
An excellent Place to Register your domain name. They offer awesome list of domains names which are already expired and can buy with easy checkout process anytime.
Wrapping Up
As You learn Above Methods how to buy expired Domains with traffic and how can you rank and gain lot of traffic by little smart work and make lot of money be selling expired Domains.
If anything I left please mention in below comments i will sure add your relevant points.
When can I buy a domain after it expires?
you can buy Domain within 30 days from your registrar. after 30 Days they will auction it.
What is expired domain?
Expired Domains are those domains which owners don't renew on time or some time they forget or money problems facing.
How can I use expired domain?
you can use expired Domain by redirect to your Main website. you can create new website with it because it already have good authority and back links on it.